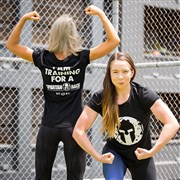 Becky Bergman

Expires
Sunday, 31 July 2016
Girl on the Go takes on Spartan for Alzheimer's Australia
Hello!

Together with Women's Fitness Magazine and GoGoRace, I'm making my way through the Adventure Race scene, one event at a time.
Having breezed through Miss Muddy and Raw Challenge, next up is Spartan! I'll be competing with a team of the best - they're strong, fit, motivating and ridiculously hilarious.
We've chosen to support Alzheimer's Australia in the lead-up to each event, as it holds a very special place in our hearts. We sometimes take for granted the fact we can actually do an event like Raw Chellenge or Spartan, go for a run, or even take a leisurely stroll.
Having seen first-hand what it's like for someone to go from competing in marathons, triathlons and rugby on a world stage, to struggling to remember how to put one foot in front of the other, we're dedicating our completion of each event to all those who no longer physically can.
So please help us, dig deep and donate. We appreciate any contribution, big or small.
Donations made through this platform are secure and will be remitted directly through to my charity of choice.


Thanks so much for your support!
Becky Bergman
Girl on the Go

Alzheimer's Australia Ltd
Alzheimer's Australia provides leadership in advocacy, policy, services and research for
Australians with dementia and their families and carers. We invest in targeted strategies
to deal with Australia's rapidly increasing dementia epidemic to ensure dementia is a
priority area for Australia's public health agenda. We rely on the generous support of
the Australian public to fund our work.
Please make sure you are LOGGED IN. You can only join a Team Leader page if you are logged in and have an Individual page created. If you do, it will be displayed here once you've logged in. If you don't, please return to the 'home page' and follow instructions on how to create your Individual page.
FUNDOMETER
Target
$1,000
Raised So Far
$841
Target
$1,000
Raised So Far
$841
Team Members
My Total: $841
Team Total: $840.80
Biggest Supporters:
Christene Bergman: $106.00
Kerry Clark: $106.00