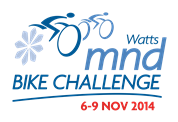 Andrew Kaye

Expires
Friday, 11 September 2015
Watts MND Bike Challenge

The Challenge
Is to ride over 300km per day for 4 days and raise
$50,000 for the Motor Neuron Disease Research Institute of Australia (MNDRIA).
The Beneficiary
Aims to improve the future of people with MND by promoting and funding research to understand the causes, find effective treatments and discover cures for MND.
MNDRIA is the research arm of MND Australia. Every research project that we finance has been scrutinised and endorsed by our committee of experts to ensure that our supporters' donations fund only the best research. 100% of donations to MNDRIA directly fund MND research.
We believe that it is only a matter of time and hard work before we unravel MND's mystery. A cure is out there and our researchers are working hard to find it.
For more info visit: www.mndaust.asn.au.

Motor Neurone Disease Research Institute of Australia (MNDRIA)
It is only with research that the future of MND will change. Motor neurone disease can strike anyone. Two people with MND die in Australia each day. Motor neurones are nerves that make muscles work. For reasons that are not yet known, these nerves die in people with MND. When the nerves die, the muscles that are needed to move around, speak, swallow and breathe, fail to work normally. As more motor neurones die, muscles become paralysed and this inevitably leads to death.
Information about MND research. More information about MND. 

The MND Research Institute of Australia promotes MND research and encourages projects in both basic science (to understand the causes and find effective treatments and a cure) and applied research (to provide the best possible care for people living with MND). Funding is provided for MND research in Institutes throughout Australia.

The MND Research Institute of Australia aims to provide at least $3,000,000 for MND research each year. Your help is needed to achieve this goal.
Please make sure you are LOGGED IN. You can only join a Team Leader page if you are logged in and have an Individual page created. If you do, it will be displayed here once you've logged in. If you don't, please return to the 'home page' and follow instructions on how to create your Individual page.
FUNDOMETER
Target
$50,000
Raised So Far
$55,855
Target
$50,000
Raised So Far
$60,515
Team Members
My Total: $55,855
Team Total: $60,514.50
Biggest Supporters:
Clean away: $10,000.00
Joss Donation: $5,000.00