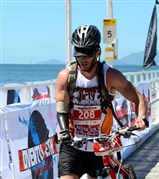 Michael Lyddiard

Expires
Friday, 16 August 2013
Support the Families of the wounded and the wounded soldier.
Soldiers and defence families can endure great losses and pressures during their service to Australia.
Losing a limb or sight; suffering from anxiety; feeling helpless or uncertain; and even feeling alienated, is not as bad as losing hope I believe!
Through engagement and empowerment, I have found a support network that helps me to help others that have experienced similar circumstances. By me giving back to those that have endured similar circumstances as mine, I feel hope will not be lost!
I wish to continue serving my country, but in a way I can assist those still serving or wounded and their families. Please support me and my partner in competition (Rickie Single) through your support and keen generosity, as we tackle the 2012 Mark Webber Challenge from a different perspective.
The wounded soldier and his or her family faces a lot of physical and mental challenges: please show your support to our soldiers and their families.

Soldier On
Soldier On is about Australians coming together to show their support for our wounded – we will always have their backs. Its about giving those who have served our country the dignity they deserve and the chance to do and be whatever they choose. Soldier On enhances Australia's capability to care for our physically and psychologically wounded, provides them with opportunities to inspire their communities and empowers them to achieve their goals.
FUNDOMETER
Target
$40,000
Raised So Far
$5,540
Target
$40,000
Raised So Far
$5,540
Team member of Michael Lyddiard - Mark Webber Challenge
View
My Total: $5,540
Team Total: $5,540

Michael was seriously wounded by a bomb blast in 2007 while on patrol in Afghanistan. He lost an eye, his lower right arm, and two fingers off his left hand. Read More
Now, Mike is training for the Mark Webber Tasmania Challenge; to conquer five grueling days of biking, trekking and kayaking in the Tasmanian wilderness and raise money for Soldier On. Read More
Sponsor Michael by making a small donation here, or organising a fundraiser in your community. Our target: $40,000 to help wounded soldiers like Michael have the best care and rehabilitation possible.
Biggest Supporters:
Mitch Stewart: $2,000.00
Bronwyn O'Callaghan: $500.00