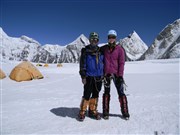 Allie Pepper

Expires
Tuesday, 3 March 2015
Allie Pepper Climbs for the Nepal Kids
In March, April and May 2014, I head to the Nepalese Himalaya for more adventures. Firstly to lead a trekking team to Everest Base Camp and then to head up a couple of 6000ers in the Khumbu to acclimatise for the main event...  an attempt on Lhotse 8516m without the use of bottled oxygen. As part of my ongoing support of The Australian Himalayan Foundation I am raising money for their 'Quality Education Program' which aims to help over 42 000 children in the Lower Khumbu region through a better education. This in turn offers them a brighter future with more opportunites. If it wasn't for the help and support of the people in this region I would not have had such a safe and successful Himalayan climbing career so far. Please support me by making my expedition more meaningful through supporting my charity.
Follow my progress at my blog- http://www.alliepepper.com/blog/ or facebook page- http://www.facebook.com/pepperclimbs
Thanks guys you rock!! 

Australian Himalayan Foundation
The Australian Himalayan Foundation is a not for profit charitable organization dedicated to helping the people of the Himalaya achieve their goals - through supporting and overseeing sustainable health, education and environmental projects in Nepal, India and Bhutan. 
The AHF has Deductible Gift Recipient status and was awarded AusAID accreditation in 2012. All donations to the AHF are tax deductible.  For more information visit www.australianhimalayanfoundation.org.au . 
You can also have a look at a brief video of our projects on youtube by clicking here.
FUNDOMETER
Target
$5,000
Raised So Far
$2,150
Biggest Supporters:
Ablaze Print Race Bibs: $2,000.00
Mike Donsen: $100.00